Professional Website-WordPress-Shopify-Amazon-MicroNiche-Ecommerce websites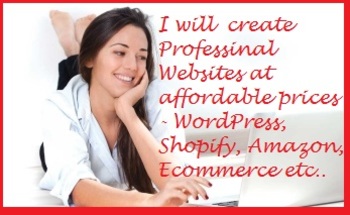 * * LIMITED PERIOD OFFER EXCLUSIVELY ON KONKER ONLY * *
Do you want someone with 5+ years of experience in building/creating Professional websites to build a website for you?

I am here to create that perfect profitable website that is guaranteed to entice your customers!
I also do Professional Business websites for your business with all relevant pages. (Price of Business website - $250)

For Shopify Customers - Please check this link - http://www.konker.io/services/33272
Note : Direct orders will be rejected since I need to know you better first before working for you. Send me a message.
This is a SELLER LEVEL 5 GUARANTEE!!!
 
Here is What I will Do for you for a Micro Niche site:
·       I will first do a thorough Keyword Research and find you the perfect niche that has at least 1500+ Monthly Searches and $1+ CPC.
·       Create 100% Original & Unique Hand written SEO Optimized Articles for the Niche. Proof of unique content will also be given for your reference. 5 articles of 500+ words for one site. If you want additional articles you can choose extra.
·       Install Responsive WordPress Theme and All Necessary WordPress Plugins (8-10 plugins).
·       On Page SEO Optimization with Page Interlinking.
·       Required Optimizations (e.g. Back links etc.) to Complete a Profitable Niche Website.
What I do not do for this service:
·     I will not purchase Domain or hosting for you, you will have to take care of that. I will suggest Domain names that are most suitable for your niche though. I will also suggest Domain & Hosting provider if you want me to.

Please contact me first before placing order to get the best advice for you! Also I want to know more about you before I start working for you!!
You can contact me for building any type of Website like Shopify, Amazon, Ecommerce, Business, professional websites etc..Just send me a message.

---
55 days
AverageResponse Time
---
---
I have been in IM business for 6+ years and I only do things I honestly believe in. Customer experience is my highest priority. If you need "real Quality" services, then look no further. You can also order via my website - https://www.weirdosolutions.com or message to [email protected]
Other services by LisaJones