Alex Beckers Secret PBN Domain Vendor - $5 Each (Limited Time Only)✅
---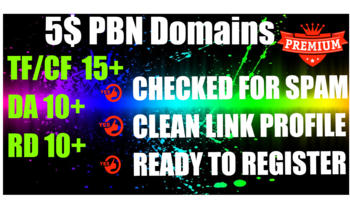 For 5$ I will give you 1  PBN that has been checked for spam manually by me, and has quality metrics.
These domains have a resale value of about 25-40$ each on auction sites.
Our PBNs are:
Wayback Machine Checked
Domain Authority 10+
Trust Flow \ Citation Flow 15+
Referring Domains 10+
No anchor text spam
Penalty Free
Aged Domain
Quality Backlinks
Manually picked out by me
Heres some samples of our PBN Metrics for this gig (Updated 2018):
After using our PBNs this is what happened to our clients rankings in Google.

FAQ:
What makes our PBN domains so special?
We only the cleanest high-metric domains. Unlike other brokers, we take the time to check every conceivable angle to check for signs of spam. We reject over 99.99% of the domains we come across, even if they've got amazing metrics, because we know how important a pure network is to your success online. To recap, here's why our domains are so special:
Guaranteed Powerful and High-Metric TF/CF 15-20
Guaranteed Ultra Clean
Incredibly Low Prices
I thought Google slapped Expired Domain Networks. Aren't they dead?
Big G is a master at PR and creating fear amongst the community. If they hit some of the bigger players hard, the trickle down effect will scare away a LOT of people who aren't quite sure about what they're doing.
However, based on our rankings (personal and of clients), we KNOW Private Networks still work, and we have no reason to believe they will stop working. You see, whether you get a link from someone on the net legitimately or if you build it on an expired domain you own, the link is still equally as powerful, as long as you've set your expired domain up right!
How would Google know that your expired domain isn't just another high quality link coming from a related blogger or webmaster?
The key is making your network PRIVATE and setting it up SMARTLY without footprints. And honestly, it's not that tough. Basically, now that a lot of the smaller guys have been scared away or wiped out, the competition is as low as it's been in awhile. It is PRIME time for you to jump in and get your private network started.
What are PBN Domains used for?
PBN Domains are what most high level SEOs use to dominate search engines and push their webpages up threw the SERPs quickly and safely.
Should I buy PBN Domains OR PBN Links?
As an SEO that has been moving websites threw SERPs for over 10 years now, I personally use my own PBN domains to rank my own websites, the reason why is because most PBN Link Vendors on the internet are selling crummy, spammed, and most likely penalized links from link farms and most of the time they dont give you reports at all of what you are ordering so it is kind of like gambling and if you win, you still dont know if it was the links, or your SEO abilities that helped.


If you are looking to build a PBN network and dont have time to scrape for PBNs or dont like buying at the overpriced auction prices at Godaddy or Namecheap, then this service is for you!!

If you are unhappy with your domain I will always replace it or refund your entire order! You have nothing to lose!
Place Your Order Today to Finally Get Your Hands On These Powerful PBN(s)!


---
6 days
AverageResponse Time
---
---
I have been doing SEO and online marketing for about 5 years now and im currently grossing about 10,000$ a month in revenue. <a class="GeneratedLink" href="http://www.fullscaleseo.com" target="_blank"">SEO Company</a>
Other services by IanSully