Alexa Ranking-Increase ranking within 5 days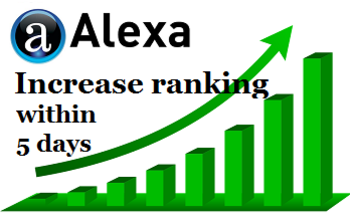 Want to increase your Alexa Ranking?
I can do that for you. You will see the ranking increase within 5 days. Country rank & US rank will also increase.
Why do you need Alexa ranking?
Websites with high Alexa ranking generally tend to be more profitable and attract more advertisers and or customers. Your Google page rank is determined by Alexa ranking. Higher ranked websites are indexed by Google bots regularly, which makes SEO easier. Alexa ranking is considered a relevant and important metric for commercial websites, as it is common for users to take a look at your Alexa ranking and rating before concluding if your website is secure enough to buy from.
Advertisers also look at your Alexa ranking to determine the marketing potential of your website. It is a valuable metric indicating your website's popularity. It is also a comparative tool, as you can compare your website with other websites. This will tell you how well you are doing in terms of traffic and popularity.
Aiming to place your website among the top 50,000 ranked sites is a great sign of success.
So do not lag behind, start increasing your Alexa ranking today, it is never too late!!
-------If you have any questions regarding this service please contact me via message ------------
What I offer:
#1: Ranking unknown to 15 Million - $40
#2. Ranking 999,999 to 500,000 - $60
#3. Ranking 499,999 to 200,000 - $100
#4. Ranking 199,999 to 100,000 - $125
#5. Ranking 99,999 to 50,000 - $175
#6. Ranking under 49,999 - $200
Please note - It is best if your ranking progress is done stage by stage. If you are not ranked in Alexa then choose #1. If you do not want to go step by step no issues, you can choose any of the above.
Increase Domain Authority (DA) of your website :(up to 3 keywords only)
#1. Increase Domain Authority DA up to 15 - $30
#2. Increase Domain Authority DA up to 30 - $50
#3. Increase Domain Authority DA up to 55 - $100
*** Website Reviews:
#1. 5 Google Website Reviews - $25 (you can order up to 100 reviews)
I also offer 30 days Drip feed of SEO packages like 100 forum profile, 100 Web 2.0, 50 Wiki backlinks, etc.. check my extras for rates.

----You can message me for discounts -----
---
55 days
AverageResponse Time
---
---
I have been in IM business for 6+ years and I only do things I honestly believe in. Customer experience is my highest priority. If you need "real Quality" services, then look no further. You can also order via my website - https://www.weirdosolutions.com or message to [email protected]
Other services by LisaJones